It was the type of day countless high school football stars all across the country experience every week. After leaving his girlfriend's house, Fountain Valley (Calif.) High School offensive lineman
J.D. Hinnant
headed to a team dinner the night before a big Friday game.
It ended up being the type of night every parent fears.
[+] Enlarge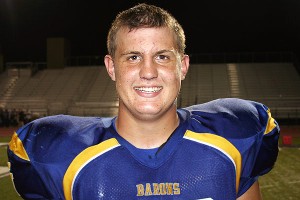 Erik McKinney/ESPN.comOL recruit J.D. Hinnant was in a serious car accident earlier this month, but he expects to be ready for college football some time next year.
When Laurie Hinnant got the call on the afternoon of Nov. 2, she heard some of the most dreadful words a mother can hear.
"All I heard was that J.D. had been in an accident," she said. "That it was bad and we needed to get over there as soon as possible. It was unbelievable," she said. "I can't imagine a feeling worse than what I felt when I got the call."
Her mind immediately went to the worst place imaginable.
"I thought he was gone," she said. "It was something you're never prepared to hear about your child."
She gathered her husband and daughters and headed straight for the scene. They couldn't get there fast enough.
"When I saw the car, I thought there was no way he could have survived," she said. "He was still in the passenger's seat when we got there. He was unconscious and we didn't know what to think. They had to remove him from the car, and I just thought that this was how it was going to end."
Hinnant's mother rode to the hospital in the ambulance with him, on what she said was the longest ride of her life.
"It took forever," she said. "To look at your son, who is always so full of life and think that you might be watching that life be taken away from him…That is very hard to take."
Once they arrived at the hospital, it was determined that the three-star recruit had suffered a broken tail bone, had multiple fractures in his hip, had multiple brain contusions and suffered a major concussion.
As bad as it was, it quickly became apparent things could have been much worse.
"He had some major injuries, but there was no internal bleeding or no damage to his organs. Once we found that out, we all took a deep breath," Laurie Hinnant said. "I think they did five CAT scans over the next 24 hours in order to watch the brain contusions to make sure they weren't growing. Luckily, they never did. From that point on, we knew he was going to come out of it OK."
After a week in the hospital and surgery to insert a metal plate in his shattered hip, Hinnant was transferred to an in-patient rehab center where the long recovery process got underway.
"I don't know. I don't remember anything about [the accident]," said Hinnant. "I just remember leaving my girlfriend's house to go to the team dinner. The next things I knew, I woke up in the hospital in a world of hurt."
While in the hospital, Hinnant thought a lot about his family, his friends, his team and his future, both on and off the field. Last week, he was finally able to return home. While he is confined to a wheelchair for the next four to six weeks, Hinnant knows that he has been given a second chance.
"It makes you realize how fragile life is and how quickly things can change, no matter who you are," Hinnant said. "I'm just glad that it turned out the way it did. I hate that I had to put the people I care about through this. I wouldn't be anywhere without them."
It's a tough decision, one made even tougher by the fact he'll be moving away — possibly far away — from those loved ones.
But even after the accident, his family won't put any pressure on him to stay close to home.
"I know he really loves Oregon, Cal and Duke," his mom said. "As a mother — especially after something like this — I want him close to home, but it is completely his choice. He has a great opportunity, and I will be supportive of anything he chooses to do."
Hinnant is down to Cal, Duke, Nebraska and Oregon as decides where to attend college next year. All four schools — and every other school he has been in touch with — will honor his scholarship offer, as he is expected to make a full recovery.
"I'm not sure if I'll be ready to line up next year, but I know that I'm going to be fine in the long run," Hinnant said. "I have a long road in front of me, but luckily all the schools that are recruiting me are still with me 100 percent. I'm going to do everything I can to get back to where I was before. I got my second chance and so I just need to recognize the opportunity I have in front of me and do everything I can to make it happen."

car-accident – Google News