Though power has been restored in some areas of New York City, as of late afternoon on Friday, there are still sections that are left in the dark.
The Tri-State area sustained a great deal of damage from the wrath of Hurricane Sandy and the lack of power, nearly four days after the storm hit, is proving to be yet another challenge. Lower Manhattan is one of the many sections of New York City that remain without electricity and now as residents begin to venture out, the dangers of darkness are beginning to show.
Huffington Post photographer, Damon Dahlen, snapped photos on the corner of Houston and Varick Street Friday afternoon, after two cars collided in the intersection. The lack of traffic signals could be to blame for the accident. Both drivers refused medical treatment at the scene and it was unclear from where the cars came.
ConEdison's website estimates they will restore power to all five boroughs by Nov. 11 and the entire island of Manhattan by midnight on Friday night.
See the photos below.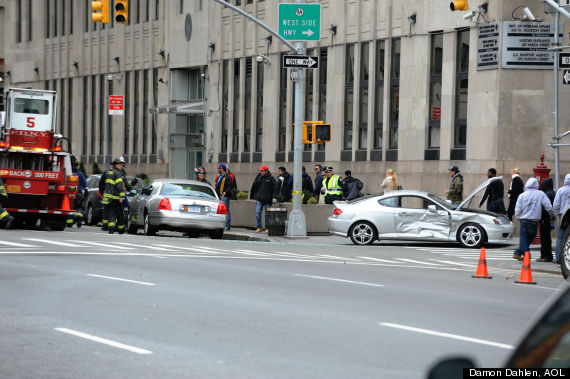 ";
var coords = [-5, -72];
// display fb-bubble
FloatingPrompt.embed(this, html, undefined, 'top', {fp_intersects:1, timeout_remove:2000,ignore_arrow: true, width:236, add_xy:coords, class_name: 'clear-overlay'});
});

car-accident – Google News