■ 02 August 2012 | 1:33 PM
Fantasy football players who own Ryan Mathews or have him high on their draft lists can rest a little easier. The San Diego Chargers running back returned to practice Wednesday night, two days after being involved in a minor car accident, according to the San Diego Union-Tribune.
Mathews (pictured below) admitted he "banged up" his elbow in the accident, but appeared to be fine in the workout.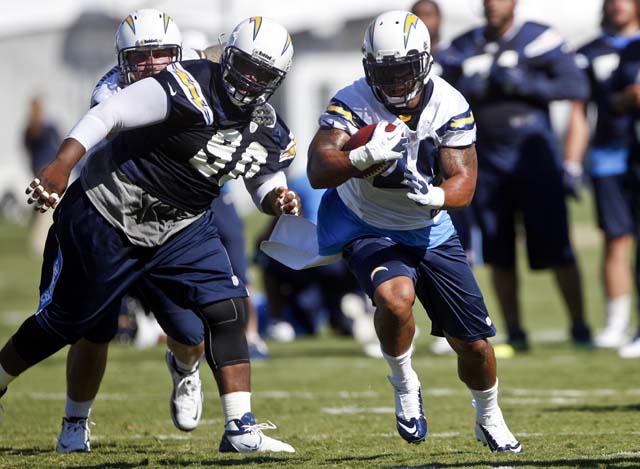 "He looked fast to me," Chargers head coach Norv Turner told the Union-Tribune. "He's a really explosive player. Just missing a couple days and then coming back out here, you just feel his presence."
Mathews finished ninth among running backs in ESPN standard leagues last season, rushing for 1,091 yards and six touchdowns and catching 50 passes for 455 yards. Leg injuries forced him to miss two games and limited him in others, though.
This season, he's being drafted as high as No. 4 overall. A big reason for that is power back Mike Tolbert has moved on to the Carolina Panthers. Tolbert was a fantasy scoring vulture to Mathews last season, getting most of the red-zone carries, catching 54 passes (fourth most in NFL among running backs) and scoring 10 TDs.
Eight-year veteran Ronnie Brown is now Mathews' backup. Brown managed only 136 rushing yards and one touchdown with the Philadelphia Eagles last season, so he doesn't figure to take many touches (and fantasy points) away from Mathews this season.
In other news:
* Maurice Jones-Drew, another potential top-10 fantasy running back, has yet to talk to the Jacksonville Jaguars about a new contract and his holdout could be a lengthy one, according to the Florida Times-Union. Jones-Drew has two years remaining on his current contract, but the team is fining him $ 30,000 a day for missing camp. He led the NFL in rushing last season with 1,606 yards and scored 11 touchdowns (rushing and receiving). Until he reports to camp, his fantasy stock will drop.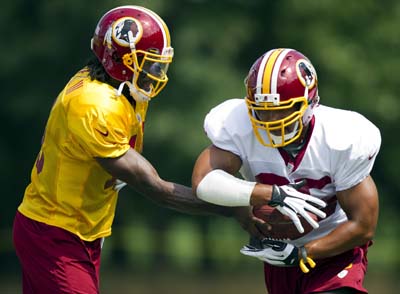 * Washington Redskins running back Evan Royster (pictured) continues to get first-team reps in practice, according to the Washington Examiner. He's competing for the starting job with Tim Hightower and Roy Helu.
* New England Patriots running back Stevan Ridley is looking strong as a first-team runner and has yet to fumble through six days of camp, according to ESPN Boston.
* Denver Broncos running back Ronnie Hillman missed practice Thursday because of a hamstring injury, according to the Denver Post. Hillman has some sleeper potential and could take some touches away from starter Willis McGahee.
* Broncos wide receiver Eric Decker (groin), who has been impressive in camp so far, was held out of team drills Thursday, according to the Denver Post.
* Dallas Cowboys rookie wide receiver Danny Coale, a former Virginia Tech star, is making a quick recovery from a foot injury and could return to practice next week, according to the Dallas Morning News.
Photo by The Associated Press
Click here for daily fantasy baseball and football updates on my Twitter page and click the follow-me button to get year-round fantasy news.
Click here for more blog posts.

car-accident – Google News